After a drastic dip in traffic the two weeks after Thanksgiving, where slow traffic reports skyrocketed from 37% on November 18 to 57% on December 2, traffic is trending positive this week with 49% of respondents reporting good traffic. While the majority of dealers are still reporting slow traffic, this is an increase in positive traffic reports by 6 points. If this trend continues, many dealers could expect to end the year on a high note.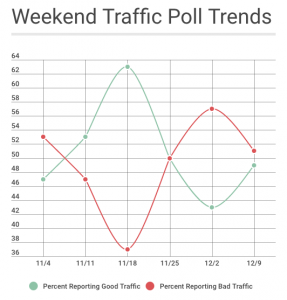 However, December's traffic is still trending down 7 points from November's average.
What's your plan to attract more traffic through the holidays?
Is the industry being affected by consumer's expectation to spend less this year on non-gift purchases?
What will happen in next week's Traffic Poll? Tune in to find out!