We saw a slight uptick in traffic last weekend as 44% of respondents reported good traffic and 56% reported slow traffic. That's down from 66% of dealerships reporting slow traffic the week before, but is still trending well below expected rates.
Indeed, this is far from the major push that many dealers were hoping to experience at the end of the year. And could be due to record-breaking travel numbers expected by airlines.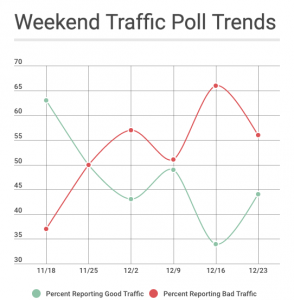 But there may still be time to finish the year strong, as many experts are telling consumers that the best time to purchase a vehicle is between Christmas and New Years.
What will 2017 mean for the retail automotive industry?
How are you gearing up to kick off the New Year?
What will happen in next week's Traffic Poll? Tune in to find out!