The results are in and respondents are reporting that traffic was down drastically the weekend beginning on Friday, December 2. In fact, 57% of respondents reported that traffic was slow. That's down 7 points since last week.
With a slow start to the month, December is currently trending down a whopping 9 points over the average traffic report for the month of November.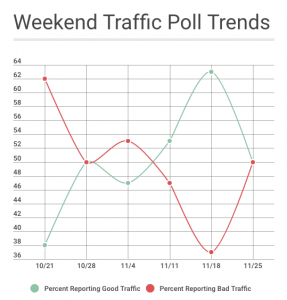 Is automotive advertising failing to break through the holiday static?
Is the uptick in consumer confidence after the election beginning to waiver?
What will happen in next week's Traffic Poll? Tune in to find out!