Many dealers are reporting that the beginning of 2017 created a huge jump in traffic Reports of good traffic rose from 44% to 71% this week, with only 29% of respondents reporting slow traffic.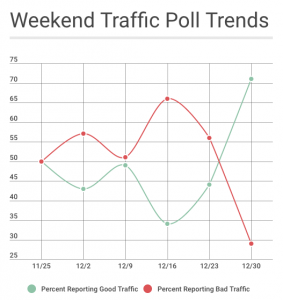 These reports in conjunction with the US light vehicle market reaching a new record for units in 2016 could mean a very happy New Year ahead for the industry. However, growth for 2016 was not overwhelming and seems to indicate a fairly stable market not one of great growth.
What are you doing to achieve growth at your dealership in 2017?
How will you gain a competitive advantage in a market that isn't demonstrating growth?
What will happen in the next Traffic Poll? Tune in to find out!