---
The Launch Pad brings you innovative ideas and insights from experts and service providers from across the automotive industry. Our goal is to help dealerships find the next big thing to launch their dealership to success.
This week on The Launch Pad, Jim Hughes, Principal/Co-Founder of IntellaCar iPad Selling System, brings you powerful insights into how tablets are revolutionizing the way dealerships sell cars.
---
We all know customers think it can be pretty SCARY buying a car even when it's NOT Halloween! A well-known Gallup Trust Study positions car salespeople at the low end of the Trust scale, 1 step above members of Congress. Yet, does it have to be that way? No, it doesn't! Tablets are making impressive inroads into changing the customer experience.
J.D. Power's SSI Study* has been tracking improvements. They found that Dealers who use tablets scored 43 points higher in Sales Satisfaction than Dealers without tablets.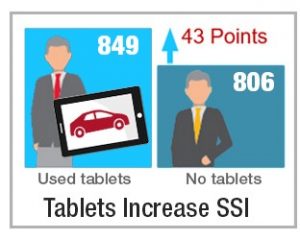 In a similar attitude, AMCI's 2017 Trusted Automotive Brand Study Report found that providing a high-quality sales experience is the foundation for building trust. Customers want to feel like they are receiving personalized treatment.
The Good News: when customers have positive feelings about the sales experience, they pay more, buy again and refer their friends. You get loyalty, advocacy and bottom-line financial results!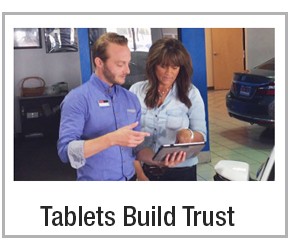 KEY AREAS THAT TABLETS INCREASE CUSTOMER SATISFACTION AND TRUST
Seeing is believing – Customers trust what they see on a tablet, whereas many are wary of what salespeople tell them. Sharing tablet screens with customers quickly builds rapport and trust.
Quality of interaction with sales consultant – Tablets enable sales consultants to provide a transparent professional sales experience, responding to questions accurately and credibly, without needing to step away to look up information or inventory. They instantly become Product Experts on all their new AND used vehicles.
Length of time at dealership – In general, the longer the sales process, the lower the level of customer satisfaction. Tablets make the sales process more efficient by giving the sales consultant immediate access to needed information and resources, reducing the transaction time by up to 25 percent.
Level of customer understanding of vehicle – As vehicles increase in complexity and technology, customers require more explanations of features, especially at delivery. Using iPads to show technology videos can make it easy for customers to understand how things work. Emailing a set of "How To' videos to the customer during delivery helps increase customer satisfaction.
"Selling is really all about meeting and exceeding customer needs;' said Jim Hughes, co-founder of IntellaCar, the iPad selling system. "IntellaCar's Performance Coaches help sales consultants use tablets to quickly build Trust and greater sales:'
Learn more about how IntellaCar can help drive Trust at your dealership: www.intellacar.com.
*J.D. Power 2015 U.S. Sales Satisfaction Index (SSI) Study
---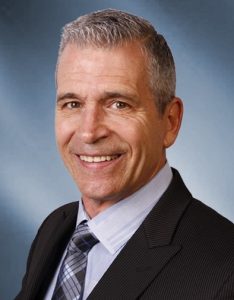 Jim Hughes – Principal / Co-Founder
IntellaCar iPad Selling System
Jim has been a successful entrepreneur, winning awards and delivering the wow for well-known brands for over 30 years. With an extensive background in creating powerful solutions for both dealers and OEMs, Jim brings his passion and expertise to tablets – with groundbreaking innovations that increase sales and improve the customer experience. Email: jimhughes@intellacar.com